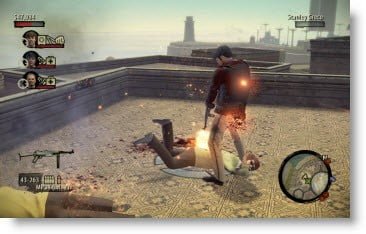 The Godfather II Review
The Godfather II System Requirements
The minimum system requirements for Windows XP (SP2) or Vista (taken from page EA):
2.8 GHz or equivalent (any Pentium 4 2.8 GHz or higher, AMD Athlon 64 3000 + or better, any Athlon64 X2 or Core Duo)
1 GB RAM (XP), 2 GB RAM (Vista)
NVIDIA GeForce 6800 or better (7300, 7600 GS and 8500 are below minimum system requirements)
ATI X1600 Pro or better (X1300, X1300 Pro and HD2400 are below minimum system requirements)
256 MB Video Card and Shader Model 3.0 required
The latest version of DirectX 9.0c
At least 9 GB of disk space for installation, plus additional space for saved games.
AGREEMENT WITH INTERNET CONNECTION, ONLINE AUTHENTICATION AND END USER LICENSE TO PLAY.
The Godfather II Gameplay
Roaming around the world
The Godfather II, seems to cut version of GTA IV (or the GTA series as a whole). You can wander the streets of a third person view, either on foot or by some passers-carjacking. It 'a little' odd though how you can easily get a new car simply stopping someone and shouts "I want a car!" Or "Nice wheels, I do" (PS: Do not do this in the real world).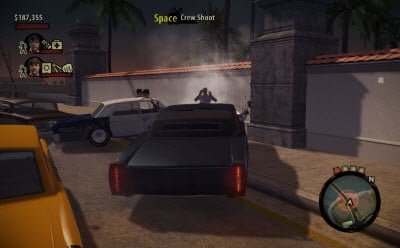 At some point in the game, you can go between cities by plane (airport and talk to the "travel agent" lady).
Made men
You can recruit more gangsters to join your family and bring them with you on missions. You can get three of your men have done, but you can still leave the other to defend your company or send them to the missions. There are six specialties in the game that your team may consist of:
Incendiary (creation of diversions and access areas difficult to access).
Bruiser (breaks down doors, intimidate witnesses, and kill).
Demolition Expert (bomb buildings and some walls).
Engineer (cut through fences and closing the power to prevent enemy reinforcements).
Medic (revive fallen you and other members of the team).
Safecracker (opens safe and vault).
Their stats and abilities can also update the price. Or if you feel satisfied with created, you can always "sign" to death (and to kill themselves) in order to recruit new members of the family. Since every man is a different weapon specializations, you must send a man to the grave when you meet someone better. Ah yes, the power!
Don View
Don is a vision of a strategic review of the world in the eyes of Don (s). This is a map of the city (if you want to put it that way) and all functions are highlighted, (and enemies) to take over. You can see that the companies belonging to the families here.
If you can take more than one set of the same type of activity (eg prostitution), so that your family will receive a special bonus. Bonuses are varied, like a bulletproof vest for all your people (including yourself) or an armored car.
You must use protective (charged per day) to keep your business (or you can use their men have to defend). Each company has a maximum number of guards may be hired, but do not have to maximize the number. You can still send his men have to defend or attack a lawn you can go to make sure not to lose the business to his enemy.
The Black Fist
To take over companies through extortion or fundamental threat until they give up and give the company to you. You can get em, smash em, hit em, hit em, hit em, throw em, whatever. This is called the Blackhand (which can perform these tasks using your mouse movement). Threaten too long and they'll fight to the death rather than abandon.
The Godfather II missions
The Godfather II missions are fairly repetitive, but fortunately, they are fun to do and not frustrating. In fact, the missions are fairly easy since your health bar will regenerate as long as you remain hidden for a period of time. Plus you can have a doctor on your team to restore health recovery if your condition happens to fall to zero.
The missions of the murders, attacks, beatings and other tasks of the mafia as always:
Fire (burning things)
Sabotage (stealing things)
Homicide (killing people)
Pump (hit food)
Much more!
Some activities require you to play alone, and others do not. For example, you can send men to the bomb through the Don, or take over businesses. But, of course, if you play the role of your team with a 90% probability that the mission is successful.
The Godfather II-bugs and problems
The story is good and not very exciting. The end game is to kill all the families, so basically there is no optional missions you need to capture all companies to attack the family. Once you finish the game, there is an option to continue with the game, but since there are more enemies on the left, there is nothing to do but kill innocent people or blow up cars just for fun.
Some bonds are also available by the end of the game, so useless as you probably will not enjoy it long enough.
Sometimes you can get stuck in a desk or wall, which you can download to save the game.
This dialogue is very, very repetitive, so you can find the same dialogues return again and again. Fortunately, the lines are not as long.
AI can be pretty stupid sometimes, and often there are these strange events:
Your men run around the outside of your car, trying to find an empty space.
No matter how you left your husband back, always magically appear when you look in a different direction. I think this is a good thing, because you will never find a way to find problems with the game
It opens the locked door to find that some men were teleported inside.
Conclusion
The Godfather 2 is a fun game gangster-style third-person view. You can watch the short version of GTA IV (Grand Theft Auto IV), but that does not mean it is a bad thing. The Godfather 2 is easy to learn and very rarely that I find frustration in the game.
The strategic element is that (the management of their families and men too), but not much. The script is sharp and nothing exciting, unfortunately. It is essentially taking over companies from other families, "to kill and to demonstrate that his family is the best fans in the country. Doing these tasks can be very repetitive, but thankfully, the missions are varied and best of all are fun and enjoyable.